Salubell Essentials® Geranium
Flavour your cocktails and desserts with its pleasant floral taste
Description
Description
GENERAL CHARACTERISTICS
Name: GERANIUM (Pelargonium graveolens)
Chemotype (aromatic molecules): Citronellol, geraniol and geranyl acetate
Distilled part: Leaves
Extraction method: steam distillation
MORPHOLOGICAL DESCRIPTION
Aromatic evergreen hairy shrub that can reach 1 m. It is perennial but often grows like annual. Its leaves are pointed with serrated edges and its flowers are small. They are cultivated on a large scale and their foliage is distilled for their scent.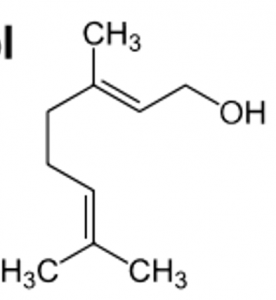 PHYSICAL CHARACTERISTICS (ORGANOLEPTIC):
Colour and appearance: colourless to pale yellow.
Scent: characteristic, with a fruity note.
CHEMICAL FAMILY OF THE AROMATIC MOLECULES: Geraniol, geranyl acetate and citroneol
Belongs to the group of Monoterpenic Alcohol and Terpenic Esters.
CULINARY ACTIVITY:
Geranium chemotyped essential oil is fantastic as flavouring. Its flowers and leaves are used as a flavouring in pies, jams, jellies, ice creams, sorbets, salads, sweets and teas. It is also used to add flavour to some pipe tobaccos, and is known as one of the famous "Lakeland blends".
DIRECTIONS FOR USE:
Take it always diluted, 1-2 drops in 250 g of nourishment (juice, tea, salads…). Maximum 1 a day.
ON SALE AT PHARMACIES
Additional information
Additional Information
| | |
| --- | --- |
| Código Nacional | CN 184487.3 |